Melanie Calamari
Hello!
Welcome to my deviantArt page! I hope you enjoy looking around my gallery and favorites, as well as my front page.

Enjoy the colors and music while you are here!~
A bit about me:

Senior in HS

17

Scorpio

Female

Heterosexual

Single

Argentinian-Italian

Athiest

Percussionist
Currently obsessed with OFF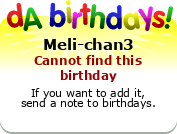 Hope to see you again soon!